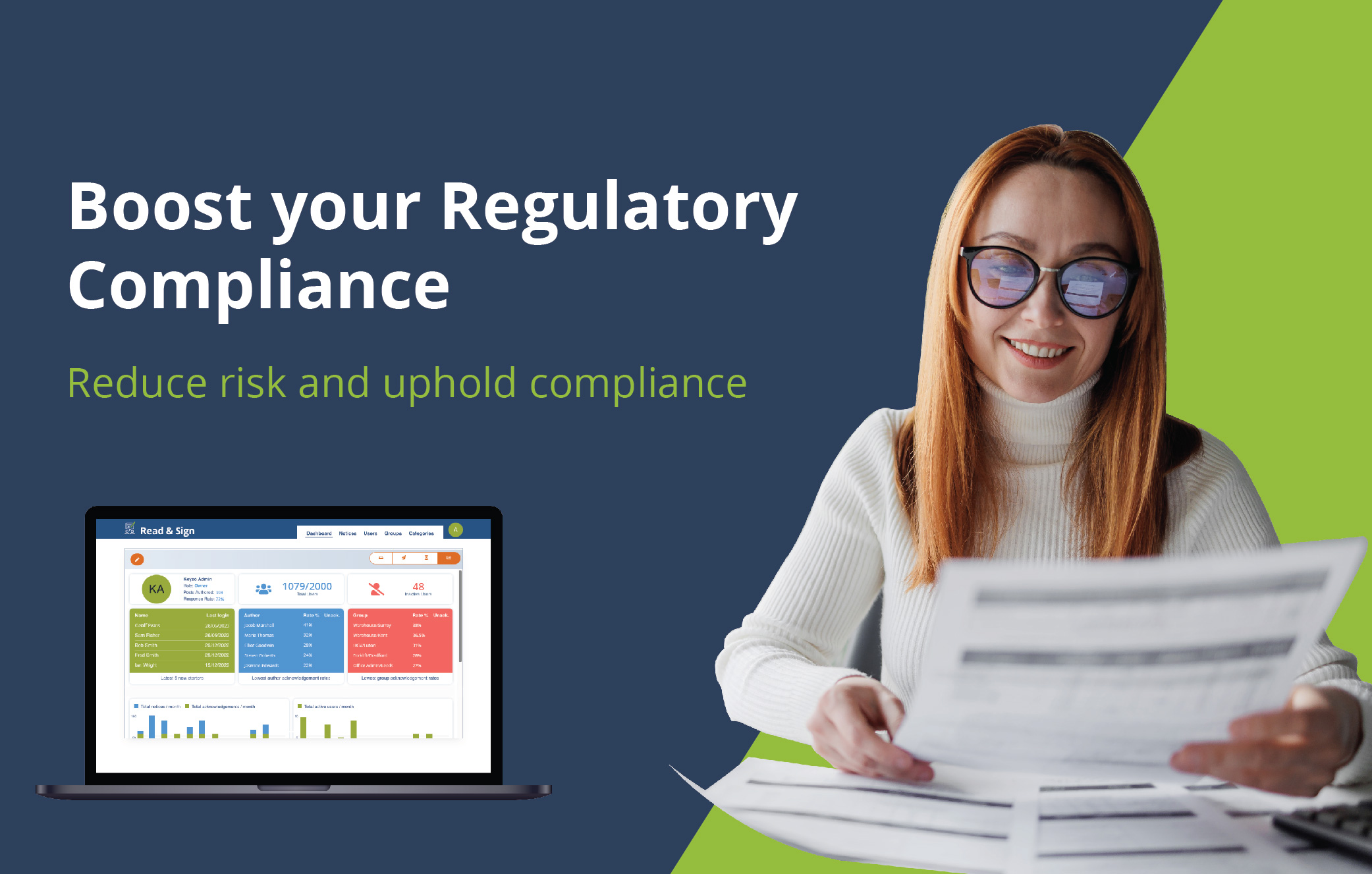 09 Aug
Boost your regulatory compliance
Regulatory Compliance is critical for every organisation, failure to comply with regulations can result in legal issues, repetitional damage, and even loss in revenue.
In this article we will look at how you can boost your compliance.

what is regulatory Compliance
Regulatory compliance involves creating, applying, and ensuring adherence to rules within a company. Regulatory compliance is crucial for meeting requirements and making sure both internal behavioural protocols and external legal regulations are upheld.
By establishing transparent boundaries and instructions, businesses can steer clear of potential legal complications.
Where effective regulatory Compliance matters
Ensuring employees quickly grasp policy changes is key to maintaining regulatory compliance, especially in tightly regulated fields like healthcare and aviation. Poor distribution and monitoring could expose vulnerabilities.
Healthcare: Privacy and security of health information.
Finance: Regulations to prevent money laundering.
Utilities: Emission impact on environment and public health.
Aviation: National security, export control, carbon footprint.
Waste management: Hazardous material, air and water quality, pollution.
Food and beverage: Compliance with food safety regulations.
Transportation: Maintenance, driver qualifications, hours of service.
Challenges of Traditional Regulatory Compliance
In industries tightly governed like those mentioned above, maintaining a solid regulatory compliance process is vital for a thriving business.
Old-school tools like paper documents, spreadsheets and emails often serve as ways to plan and log information, but they are tricky to manage and enforce.
Scattered Storage: Juggling act to store documents and measure performance.
Inconsistent: Information can alter with every send, putting consistency at risk.
Staff Engagement: Requires physically chasing employee acknowledgement.
Error-Prone: Easy miss recipients or use wrong file versions.
Time-eating: Running and managing is demanding.
Fortunately, policy management software can eliminate these challenges and mitigate compliance risks.
Reducing Risk
With software you can effortlessly issue notifications and monitor their progress from one place, lowering the risk of non-compliance.
Templates, automations, grouping and lists mean that no details are overlooked when creating a new notice, guaranteeing everyone gets the same message.
Following the dispatch of a notice, automated reporting and monitoring kick in, allowing admins to trace progress and spot potential issues before they escalate – a proactive approach for businesses.
You can also send instant alerts, including to mobile devices, keeping you well-informed about critical regulatory changes that might impact your business.
Boosting Compliance
Using quizzes and tests can improve compliance by confirming comprehension and identifying areas for future training.
Scheduled reminders avoid deadlines being overlooked, guaranteeing employee acknowledgment by desired dates.
Notices are tracked for auditing, including distributions, confirmations, reminders, and other interactions.
A central hub provides a more complete view of compliance, helping to detect compliance gaps and ensuring full coverage.
The user-friendly nature of software is engaging and avoids reliance on makeshift systems like emails and spreadsheets.
Solution to regulatory compliance
Heavily regulated industries can't afford to overlook the benefits of compliance software. Don't let regulatory compliance become a source of stress for your business, take control with Read & Sign.
With automated reminders, audit trails, and limitless distribution configurations, Read & Sign can help you achieve regulatory compliance.
Contact us today and discover why Read & Sign is the top choice for businesses in heavily regulated sectors, like aviation.