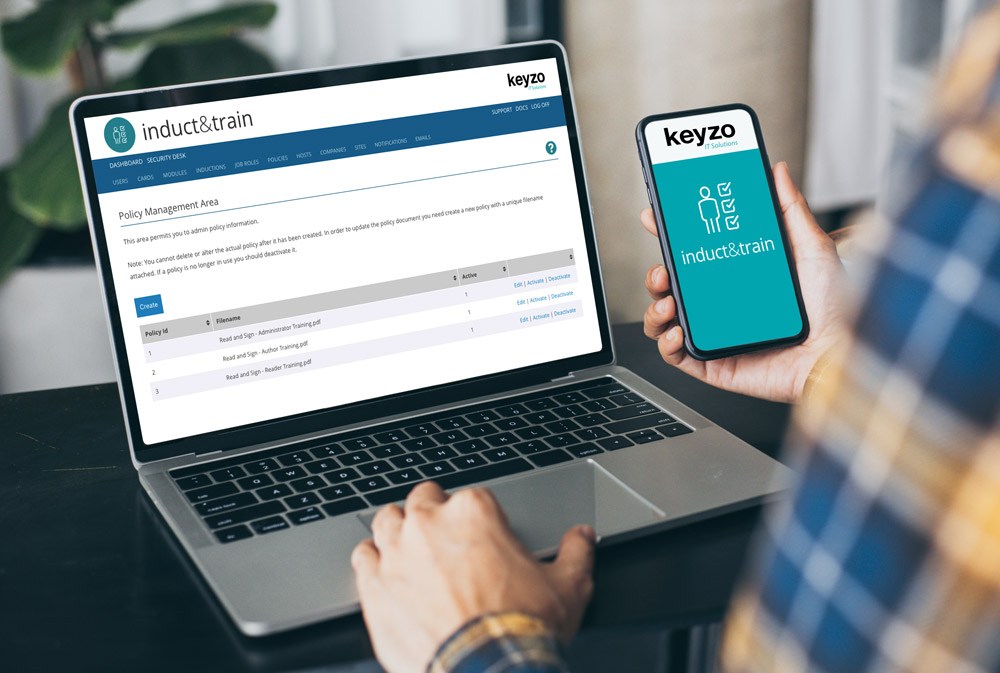 01 Nov
How to improve your site induction process
By using site induction software such as Induct & Train, you can easily provide up-to-date safety and company training information to new starters and employees that need refreshing. Lets explain this further…

What is a site induction?
When an employee first starts at a business, they will go through an induction process so that they are fully prepared for their role, understand what is expected of them and can learn about the company and general procedures.
Site induction software can massively benefit organisations by enabling them to provide new starters, contractors and current employees with the most up-to-date industry information and company knowledge.
With an efficient induction process in place, new employees can learn valuable insights into their job role without being overloaded with information. By logging into the companies site induction software, employees can complete their training in bitesize segments.
Best of all… site inductions support agile working, as they can now be done from anywhere, at any time, even before the employee starts work!

What to include in an online site induction?
Moving your induction process online means your site induction checklist can be super easy to update, auditable and all information can be kept in one safe place. The induction checklist may include sections such as:
Employee Responsibilities
Health, Safety, Quality & Environment
Procedures for site safety
Hazards & incident reporting
Meet the team
Company values


Why our site induction software?
Tailored to you
With Keyzo's site induction software, we provide a tailored approach to each company with a white labelled system. We work with you to ensure that your induction requirements are met and that you are 100% satisfied.

Save time across the business
Site managers save tonnes of time not having to manually go through inductions every day with employees and contractors that are constantly changing. Instead, they can complete their inductions on their own, much quicker, creating efficiencies across the whole business.

Company engagement
Your staff are more likely to stay engaged throughout our site induction system with essential information presented in a variety of ways such as multiple choice questions, imagery and video. Also with a branded dashboard for stronger engagement and brand recognition among the company.

Easily schedule inductions
Site inductions can be planned so that employees are sent new training information that is relevant to them, only when needed. They may start off with an overall company introduction and then receive training about the site. Their knowledge could be tested further down the line, to see what they have remembered.

New starter confidence
Online inductions allow new employees to fully digest the information, by rewatching videos or sections in their own time and learning in a way that suits them. This ensures that they feel fully confident in what their role involves and that they are ready for the job ahead.

Paperless inductions & reports
By removing paper from the site induction process not only saves time and money, but also means that all training data can be easily analysed using the reporting system. Providing an overview such as pass or fail rates and completed or incomplete inductions.

Try out Induct & Train today!
We've helped a wide range of industries to improve their induction process including construction, renewable energy and aviation businesses.
If you have any further questions about how we can improve your site induction process, or you would like to test the site induction software for yourself, please do get in touch. Our friendly team will arrange a short demonstration and will answer any questions you have.