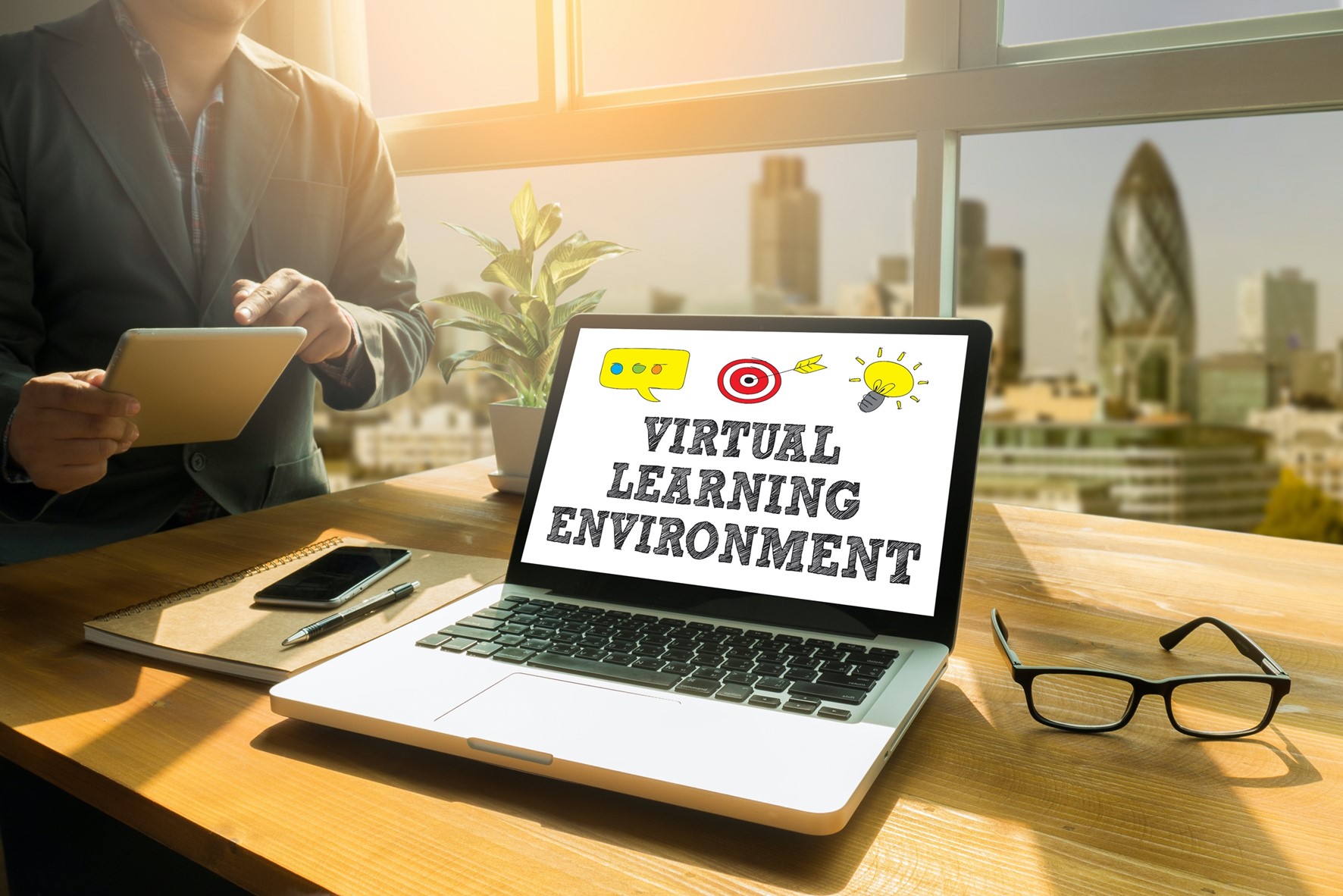 11 Nov
Our all new Induction Training Reporting dashboard
Time doesn't stand still and neither do our Keyzo solutions thanks to an ongoing development roadmap packed with upgrades across our product range.
Our focus during the latest round of enhancements has been the new induction training reporting dashboard for the Induct & Train software.
Induct & Train offers a level of flexibility that can't be matched by other solutions. Helping our clients to maximise the improvements that can be made and the time that can be saved through tailored configuration. By integrating with other HR and learning platforms to share information and updates in order to reduce workloads of those responsible for day to day management of this area.
New Reporting Dashboards
Our all new induction training reporting dashboard provides access to the information, data and status updates needed to make the most of Induct & Train and to fully understand how effectively your training and induction programmes are running throughout the year.
The induction report dashboards can be configured to show the information, data and updates of most importance to each customer and the information can be extracted and shared with other platforms if / when required.
Never has it been easier to demonstrate the ROI and effectiveness of the Induct & Train platform.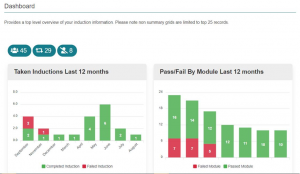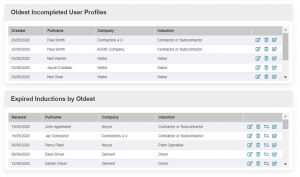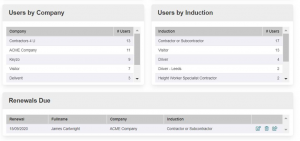 Code base updates
Our development team have been working on our I&T code base in order to make the onboarding process faster and also speed up the roll out of new functionality for customers upgrading their Keyzo solutions.
This is helped in no small part by our new configuration options which add all new levels of flexibility to I&T straight out of the box, making it possible for us to align Induct & Train with existing processes and workflows from day one.
This change alone can help to reduce potential costs and turnaround times on new account builds and will also reduce the effort require to implement this all new solution by giving more standard configuration options for new clients to select from in the first place.
Login Process Improvements
In recent months we have welcomed a number of new clients to the Keyzo family and all have brought something different when it comes to login requirements.
This has led to the development of multiple options when it comes to user login configurations which helps to ensure that we are able to align Induct & Train with the IT security requirements of each client we service where possible.
These options now include:
Username / Password option
Passcode QR / Barcode scanning
Digital ID badge (accessible via mobile devices)
Configurable self-registration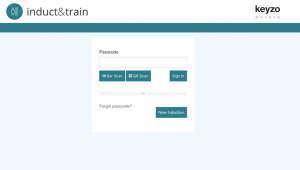 New Multi Profile Configuration
One of our biggest USPs is the ability of our products to simplify the management of the induction process and ongoing training for companies of all shapes and sizes and our latest developments take this capability even further.
Our Multi-Profile functionality ensures that users who need to hold inductions and complete training in order to work across multiple sites can do so with ease by simply adding new modules to their profile at any time.
Not only a big benefit for induction users but also for system induction and training managers as we've also worked on the admin area of Induct & Train to make it easier than ever to manage content and induction records, regardless of how many sites are involved.
Induct & Train users can now make use of the following features when it comes to Multi-Profile:
User can take multiple inductions for different sites and roles – all of which can be completed and will be recorded in a profile area specific to each user for ease of record keeping and management
Can be self-administered or via admin – User can choose to take the additional inductions when logged into their portal or notifications can be sent out by admin teams with a link to the additional inductions the user needs to take.
Induction mass assignment – inductions can be assigned to multiple users in one go (for example in preparation for a site visit)
There are no limits to how many site or role based inductions that can be taken by each user and captured within their training records.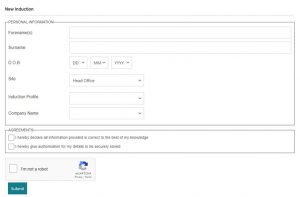 Usability Improvements
The world is changing and working remotely is more prevalent than ever before, so our latest usability improvements are testament to our user first approach that runs through all of our products and developments.
Induct & Train is more mobile friendly than ever helping to ensure that users can sit their inductions on a wide range of connected devices whenever it is most convenient for them while our search, filtering and navigation improvements ensure that induction and training teams are more efficient than ever thanks to a series of improvements to usability, navigation and searching as follows:
Better mobile support
Improved common search bar
Better site navigation
Simplified Administration (centralised renewals)
Quiz Usability Improvements
The world is more interactive than ever and it's important that our solutions match the convenience of the other apps and products we all use on a day to day basis and that's why our latest release features the following quiz improvements:
Video resume playback – Pick up from where you left of should you get interrupted during your online induction or training.
Slide show navigation – Navigate your way around each training module with ease
Training Correction – Ensure your inductees get the most from each module by highlighting the correct answers to failed questions (optional)
Content Improvements
Content is one of the most important elements of any training or induction programme and that's why we have focused on making this a more flexible and intuitive process for content managers and administrators in our latest release.
This not only helps to drive efficiencies and savings, but also helps to automate some of those labour intensive and repetitive tasks associated with ensuring everyone is up to date when it comes to annual inductions and training.
To that end we have introduced the following:
Presentation Slide Import
PDF Import
Dynamic content – basic template can be used across multiple induction profiles and populated with site / induction specific details.
Onboarding policy documentation acknowledgements
Company Branding – Induct & Train can now utilise branding, images and colour schemes in order to mirror other corporate sites for each client.
More Automation
And last but by no means least, we have increased the flexibility around renewal reminders putting you in full control of when reminders will be sent and for what purpose and we have also added an auto archive function for inductees (for example) who don't need to be live in your system but will need their induction or training records to be retained.
Next Steps
If our latest product updates have caught your attention and you would like to speak to us in more detail about our induction training reporting dashboard or the Induct & Train software, simply drop an email to info@keyzo.co.uk and a member of our sales team will get back to you right away.
Read how our induction training system has integrated within Formula one autocentres.