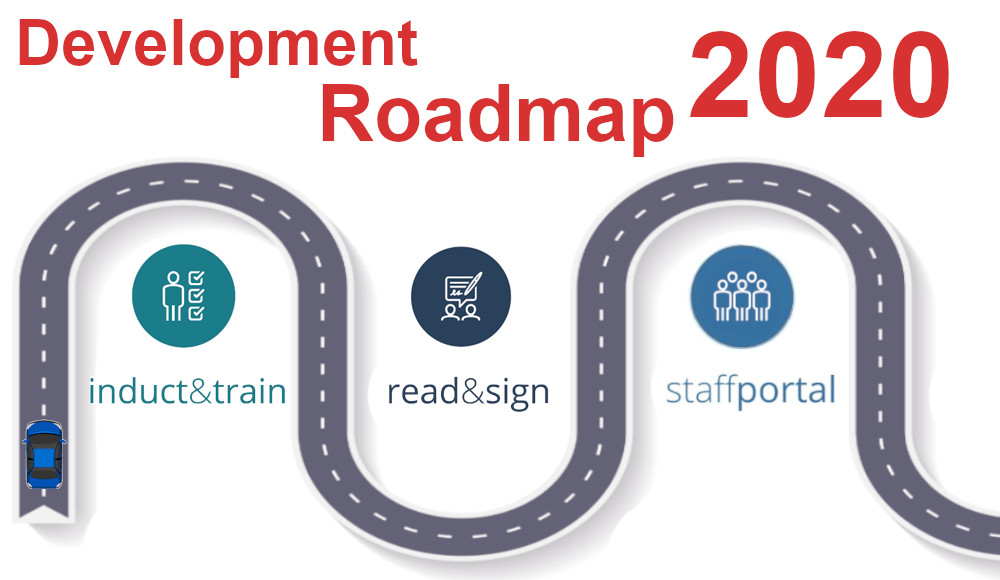 13 Jan
Keyzo development roadmap 2020
Let's kick off the New Year on the front foot! Here is a collection of items from our development roadmap for 2020…
Firstly, for all of our software solutions we will be enhancing the security further, simply to guarantee they remain watertight. Alongside security updates we will also be building new dashboards so users can obtain the important data they need to, very readily accessible and in an even easier manner than currently. We're aiming to utilise UI practices to make important data as clear as possible and prominent in each solution we provide.
Here's a look at some of the software specific developments we're bringing to you in 2020…

Policies in the competency record…
You currently have the ability to capture any information about an inductee when they complete their competency record. What we're going to be adding into this area is the ability for an admin to upload policies, which can be opened, read and ticked off by inductees before completing their induction. This will be recorded against everyone's profile so you will be able to demonstrate their acknowledgement towards the documents you choose to place in there.
Enhanced media player…
We will be improving on the existing media player to make video induction content a more seamless experience, in terms of better playback.
Digital ID cards…
To encourage even faster site access, we're going to provide the ability to provide ID cards electronically. You will still be able to use the card printers to create physical ID cards, but inductees will also receive their ID card by email, giving them the ability to scan into site using any device rather than having to have a printed ID card. This is being done to give you the opportunity to alleviate some of the printer usage while allowing people to sign in quicker than before.
Audio files will enable 'spoken' questions…
In the quiz that accompanies each induction module we plan to build in the ability to add audio files. This way, when an inductee takes a quiz the uploaded audio files will play and verbally talk the inductee through the questions and answers. This is being designed to make the system easier to use for inductees that might not have the best reading skills and improve success rates for those who fall down on reading ability as opposed to job related competency issues.
Add new inductees in bulk…
Rather than create inductees on an individual basis, we will be bringing functionality in so an administrator can add new inductees in bulk, all at once. This should dramatically speed things up for any organisation using induct&train where the administrator-lead approach is adopted.

New user interface…
We are going to overhaul the whole way the read&sign system looks and improve how users will be able to interact with it. This will take shape over time and when we've built an interface that ticks all boxes, we will roll this out to all read&sign customers. Input and feedback will not only be welcome, but highly encouraged.
Document Library…
To compliment being able to add attachments to notices, we will be providing an area where administrators and potentially authors too can upload and maintain the latest versions of all relevant documents and policies, to be drawn from when attaching to notices and also where users will be able to go to read any documentation they may need to, without having to acknowledge them.
'Surveys' and 'Questions'…
Currently our question functionality behaves more like taking a survey… We're going to transform this functionality into a proper 'Surveys' tool. Alongside this we are also going to build in the ability to assign 'Questions' to notices, where the author will be able to set-up correct and incorrect answers, so that you are able to further prove understanding and acknowledgement around any notices you send to recipients.
Multiple time zones…
We will be building the ability to work across multiple times zones, so when a recipient acknowledges a notice, it will be recorded in the local time zone as opposed to GMT. This will improve auditability and the data that read&sign provides. It will also make things easier for any organisation using the solution across different countries and regions.
High priority notices…
With a simple checkbox, authors will be able to mark any notice as a high priority. For any organisation that uses read&sign to send a lot of notices, this will help assign priorities for recipients.

Image and picture gallery…
We are working to build a gallery into staffportal, which will allow administrators, or potentially all users (configurable) the ability to add pictures and images into an area where all staff can see them.
Finally…
If there's anything specific you would like to see in one of our solutions, please get in touch and let us know. We are always on the lookout for insights into what can make our range of solutions better and better and we'd be happy to hear your thoughts and potentially work them into the roadmap.
You can get in touch with your account manager or via info@keyzo.co.uk
Here's to a successful 2020!