17 Jul
Software Release Notes – June/July 2019
We have been busy working on the below software improvements through the latest development cycle…
Most software improvements can be applied via account configuration, though some of the general improvements will be common and automatically applied to each solution.
We actively develop our software based on the feedback of our customers the evolving requirements of the industries we work with, and the organisations who contact us.
In these Release Notes…
read&

sign – r&s


induct&train – i&t
Release Type Key…
NEW – New functionality available
ENH – Enhancement on existing functionality

Our document acknowledgement software can be accessed anywhere to ensure the notices you send out are received, acknowledged and understood…
There has been a lot of progression and movement with read&sign over the past development sprint. You can find a round-up of everything below…

Quick Search across all Notices
(NEW)
r&s
Recipients, Authors and Administrators can now quickly Search through their combined notices if they are looking for something specific. The Search functionality can be found in the Notices section under a new tab called 'Search'. When the search function is used it returns notices from all outstanding and acknowledged notices in 'My Notices', 'Authored' and 'Organisation' tables, searching against the Reference and Title of the Notices with results returned in one common grid.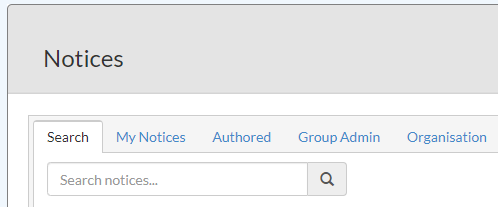 New Dashboard
(ENH)
r&s
The Dashboard has been improved so Administrators can now drill down into Groups and measure acknowledgement performance and engagement. By simply clicking on the column desired an Administrator can drill down as far as Group individuals and send reminders if required.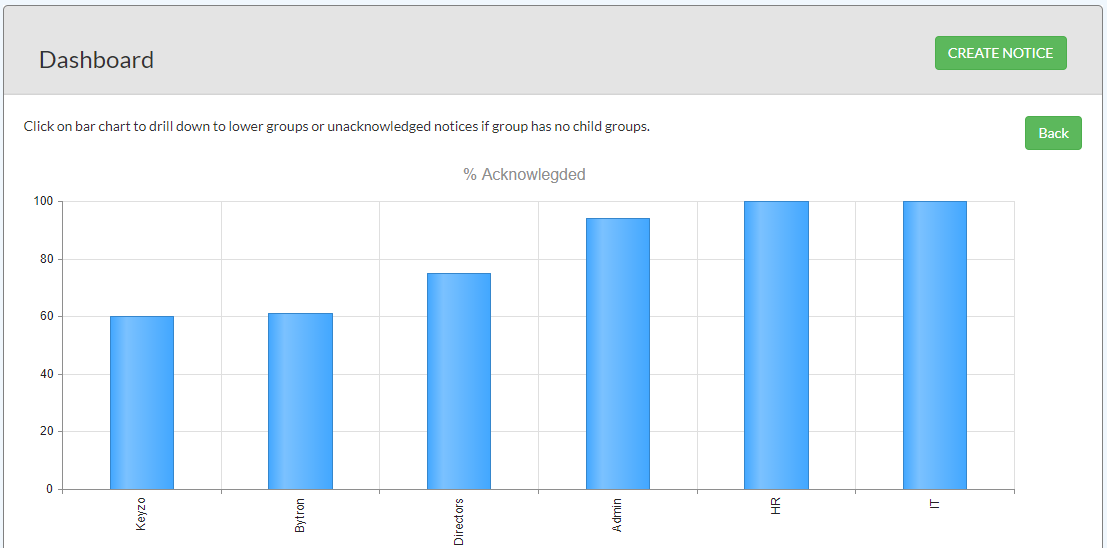 Auto-archive Notices
(NEW)
r&s
Auto archive functionality has been added so older Notices can be managed without the need for manual intervention. This has been created as a system setting in the form of a scheduler essentially allowing messages over 'x' amount of days old (since their published date) to be automatically archived.
Notices default archive at future dates
(ENH)
r&s
This is an enhancement designed to help streamline the administration of Notices. When creating a Notice they will now default to archive at sensible future dates rather than automatically being marked for permanent. This is a system setting which automatically marks new Notices with an end future date 90 days from its creation. This can still be overwritten simply by ticking the 'Permanent' checkbox which is now unchecked by default. The Notice will now auto-archive when this date is met. This should help keep the system tidy and stop new users receiving outdated Notices.
Ability to 'unarchive' Notices
(NEW)
r&s
The ability to unarchive Notices has been added. This means if a Notice is mistakenly set to archive, an Administrator has the power to restore it.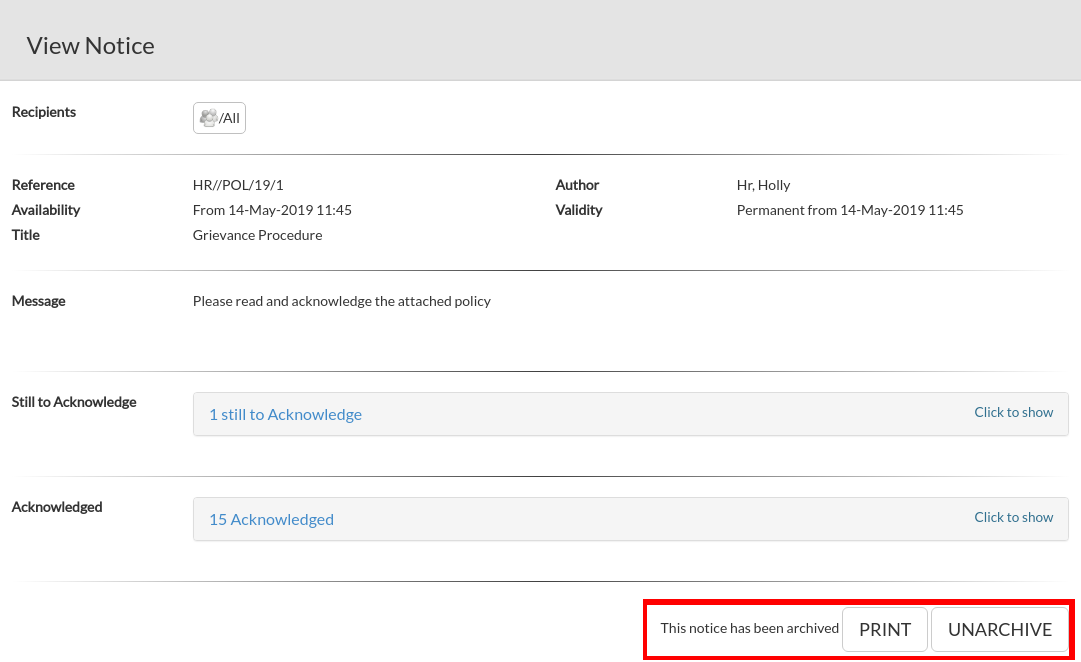 Improved responsiveness; Recipients
(ENH)
r&s
We have improved the responsiveness for Recipients, meaning anyone who receives a Notice now has a clearer view and read&sign is easier to use when they login to acknowledge a Notice on a mobile or tablet device
Allow 'Username' to be changed
(NEW)
r&s
A user's 'Username' can now be altered within the 'Edit User' screen. This provides more control over changing user's login details if required. This can be changed by an Administrator or the Recipient themselves.


Our online induction solution will improve your induction process and keep your workforce, contractors and drivers safe, compliant and engaged…
We have hit some key milestones with induct&train over this development sprint and more exciting improvements and developments are coming soon…

Job Booking module
(NEW)
i&t
The Job Booking module is now available within induct&train. With the Job Booking module it is now possible to book people onto site to complete a specific task. Assigned to a host, the inductee booked in, an administrator, and the relevant host can create tasks, check task progress and add updates around the status of the task, all tied into the induction process.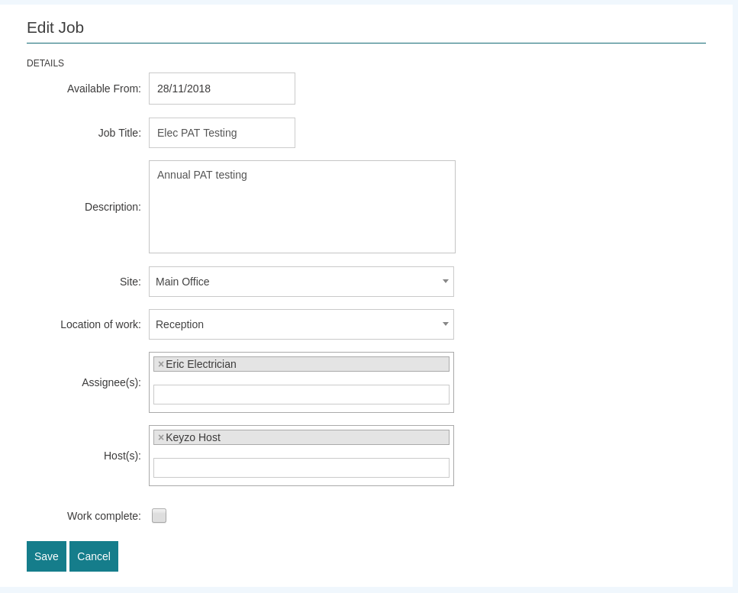 Improved content management
(ENH)
i&t
With an enhanced content editor, managing induction content and the quiz attached to each module is now a more user-friendly process. Whether editing 'static' content or uploading video/animated content, the functionality is now more readily available than previously.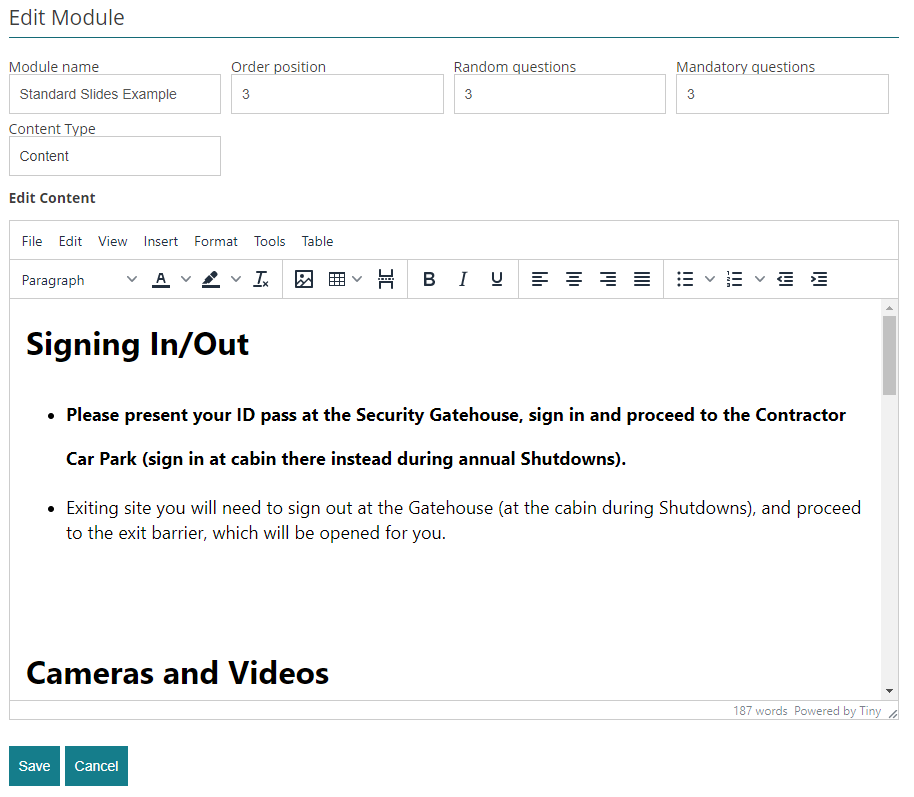 Multi-language support extended
(ENH)
i&t
induct&train has always had multi-language functionality, but we have spent time adding more translations into the system. Providing you can provide translated induction content and quiz questions we can now readily cater for the following non-English languages:
Bulgarian / Czech / Dutch / French / German / Greek / Hungarian / Italian / Latvian / Lithuanian / Polish / Portuguese / Romanian / Russian / Slovenian / Spanish / Ukrainian
We can also add other languages should they be required.
Improved responsiveness for Inductees
(ENH)
i&t
We have improved the responsiveness for Inductees, meaning anyone who receives a notice for Induction or Re-Induction now has a clearer view as they complete their profile and complete the induction. induct&train is now even easier to use when Inductees are completing the process on mobile or tablet devices which should encourage more completions prior to arriving on-site.
Better performance and security
(ENH)
i&t
Through updating our servers induct&train can now demonstrate better speed and performance along with a marked improvement around the security of the already highly secure system.
Remember, we're always looking for feedback…
Make sure to get in touch if there is something specific you would like to see in your Keyzo solution. We are always open to discussion on how our software products can improve further in-line with industry requirements…
Our team are on hand if you have any questions about our software. Get in touch on +44 (0)1472 269243 or drop us an email at info@keyzo.co.uk