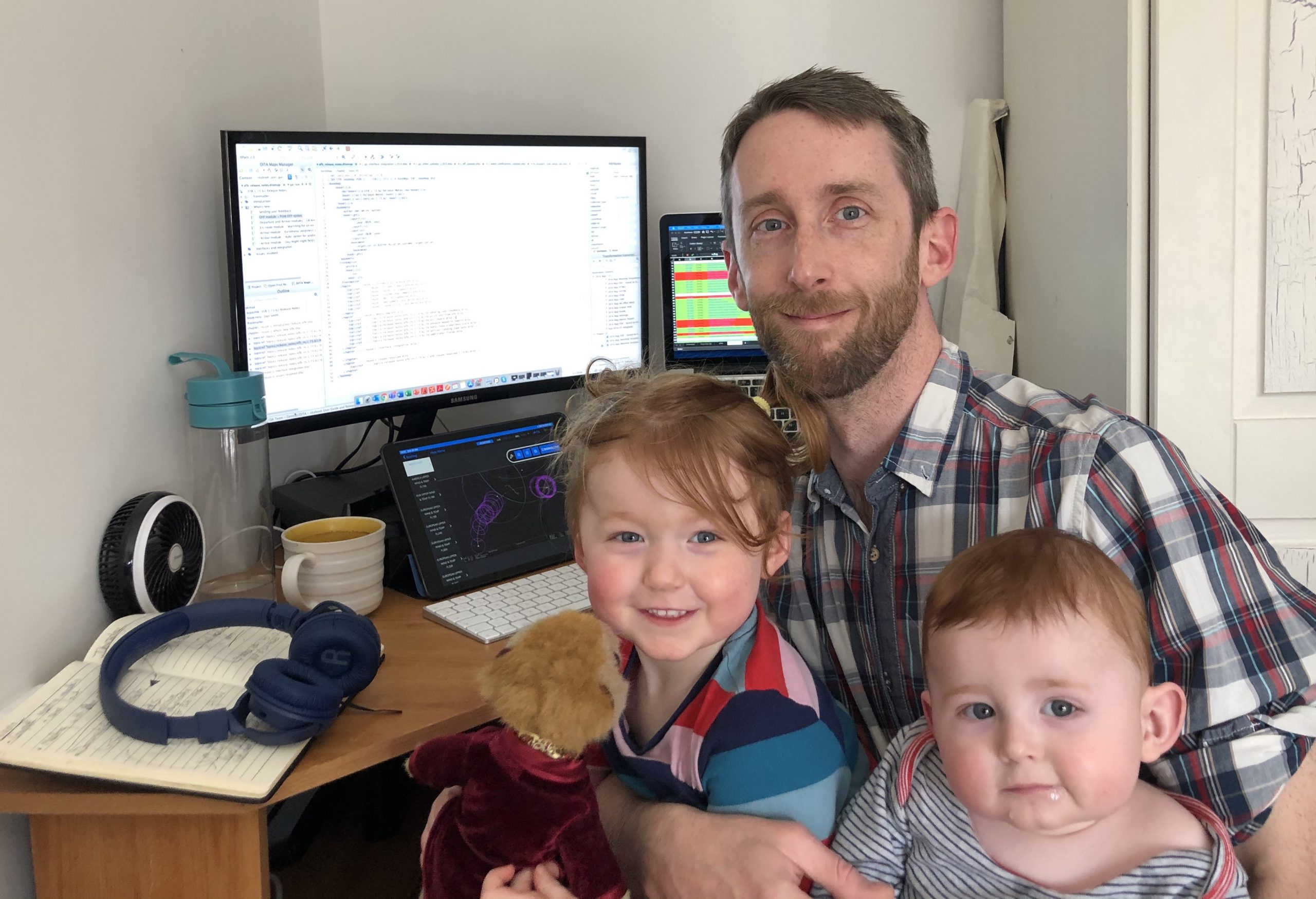 08 Apr
Meet Dan, our Technical Author
Meet Dan our Technical Author who has been with the Company almost five months. Having spent the last three and a half weeks working from home due to the current Coronavirus situation, he's found that sticking to his usual routine of getting up early, exercising where he can and spending quality time with his Wife and children is getting him through.
"I usually get up at 5:30am, have a coffee and shower, do some housework and get the kids and wife's breakfasts ready before they get up. Sticking to that early routine gives me chance to enjoy some peace before getting the kids up at 7:30am. I usually try and have a break at least once an hour and do a few laps round the garden to keep healthy. When I finish work, it's time to go exploring in the garden with my little girl before tea."
Lots of people are taking to social media to share ideas on how to keep the kids entertained whilst schools and nurseries are closed. Working from home allows for the time normally spent commuting to and from work to do things at home with the family. It's a huge shame that due to the social distancing rules that not all of the family get to be involved. We've all had to adjust how we keep in touch with relatives but thankfully, the magic of modern technology means that even though we're physically separated, the wider family is just a video chat away.
"There are a lot of unknowns with the Coronavirus crisis, such as how long before everything is returned to normal. We've wanted to make some vegetable patches for a while to be able to grow our own so the extra time we've had and the lovely weather has meant we've been able to achieve that as well as having lots of fun with the kids. We've had lots of video calls with relatives too to keep them included.
I definitely miss seeing all my work colleagues though and the usual office banter. I've also realised how much quicker the coffee jar goes down at home when I'm here all day! Whilst communications with everyone at work is great, I miss that face to face contact when needing to ask a question for example. I also miss my super comfy office chair! "
As a Company, we took swift action to ensure the health and safety of our staff and have put measures in place to maintain staff mental health and provide reassurances during a worrying time for everyone.
"I'm really happy with the support I've received thus far from work, everyone is very understanding and Shane particularly has provided much needed reassurance to us all. I think it was really good that Keyzo was proactive in asking us to work from home quite early on in this crisis. It's a difficult situation we're all in. We're missing seeing friends and family and it's hard to explain to a two year old why she can't see her grandparents or her friends at the moment. From a personal perspective, we feel very blessed that we have a large garden and our own bit of stream running through so we can spend lots of time out there exploring and making things. The positive side is that I get to spend a lot more time with my young children, having breakfast & lunch together as an example – we're trying to make the most of it."