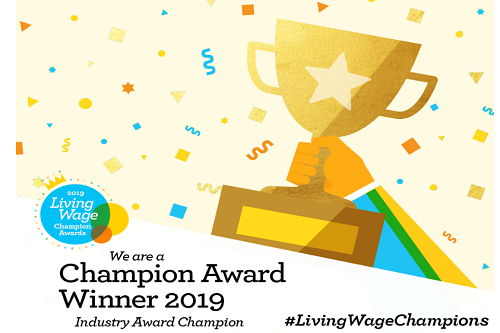 23 Aug
Launch of Living Wage Tech Champions network
This month, the Living Wage Foundation has launched the new Living Wage Tech Champions network. The group consists of representatives from across the network of accredited Living Wage Employers in the tech industry, including household names like Moneysupermarket Group, fast-growing digital firms like Feefo, and many other tech businesses from across the UK. We're proud to be involved too!
The Living Wage campaign is an independent movement of businesses, organisations and people who believe a hard days work deserves a fair days pay. Employers choose to pay the real Living Wage on a voluntary basis as it provides an ethical benchmark for responsible pay. The current real Living Wage rates are £9.00 per hour in the UK and £10.55 per hour in London.
Around six million employees in the UK earn below the real Living Wage. That's nearly a quarter of the country's workforce and includes nearly a third of women working in the UK. As a result, two thirds of children in poverty have a parent in work.
There are over 210 accredited Living Wage Employers in UK tech. However, the industry is lacking in large accredited employers (over 500 employees), with just seven currently signed up to the scheme. As an industry currently experiencing high levels of growth and investment (in 2018, UK digital tech investment reached £6.3 billion, more than any other European country), it's hoped that more leading employers will become accredited with the Living Wage Foundation, ensuring their direct and contracted staff earn enough to get by.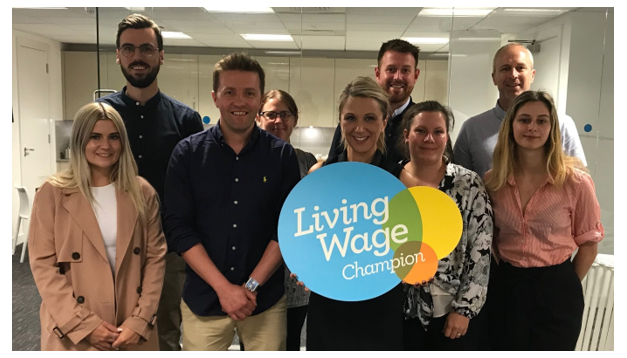 In an ever-growing and diverse industry such as tech, which increasingly relies on the insecure gig economy for staff, low-pay can often be hidden. Three-quarters of catering assistants in the UK earn below the Living Wage, while the same is true for two-thirds of both cleaners and elementary admin staff, nearly a half of taxi drivers, and over a third of van drivers.
The Champions network leads on from the great work of the Living Wage in Tech Leadership Group, which previously advised on the overall strategy and direction of the Foundation's outreach in the tech industry. These new Champions will now be flying the flag for the Living Wage across the industry, and within their regions and networks.
Sam Hepher, Programme Manager and tech industry lead at the Living Wage Foundation said: "We're very excited to be bringing together such an enthusiastic group of employers who understand the very real problem of in-work poverty. They'll be setting an example to the rest of an industry where there is still a great deal of low pay."
Therisa Thompson, HR Manager at Keyzo IT Solutions Ltd, and Chair of the Living Wage Tech Champions network, said: "I'm really excited to be working with the Living Wage Foundation, chairing the Tech Champions network. As a group, we're working to encourage more tech companies to become accredited as Living Wage Employers.
"Since our organisation became an accredited Living Wage Employer in 2017, we've become a more people centred business. Our absences have reduced by over 50%, staff turnover is down by 85%, recruitment costs have reduced by around 90% and staff morale has improved."
Shane Spencer, Keyzo IT Solutions Managing Director, said: "When you hear statistics suggesting that almost 6 million employees across the UK earn less than the real living wage and you realise that this results in approximately two thirds of children living in poverty despite having a parent in work, you realise that something needs to be done.
"The Living Wage campaign is really starting to gather pace now thanks to the community groups and companies that are already on board and together, they are starting a movement that simply can't be ignored.
"As business leaders, we need to recognise the impact that paying below the real living wage can have, not only on employees but also on their families and the communities in which they live and putting it quite simply, we need to take action.
"It was a no brainer for us to get onboard as a company and play our part in this movement and I hope others will take action as well.
"I'm immensely proud of our work to date and it was great to be recognised with an Industry Champion Award at the 2019 Living Wage Champion Awards."
Living Wage Tech Champions:
Amy Coombes, Finance Manager at Netitude
Craig Hume, Managing Director at Utopia Computers
Emma Lemon, Head of Design & Marketing at Quotevine
Georgina Scott, Head of Marketing at Wagestream
Jaya Chakrabati MBE, CEO at TISCreport
Lily Howell, Marketing Assistant at Netitude
Neil Fitzgerald, Head of Reward at Moneysupermarket Group
Richie Stewart, Head of People at Amiqus Resolution Ltd
Therisa Thompson, HR Manager at Keyzo IT Solutions Ltd (Chair)
Vicky Gardner, HR Advisor at Feefo
To find out more about the real Living Wage, and how to become an accredited Living Wage Employer, visit www.livingwage.org.uk, or contact Sam Hepher, Programme Manager at the Living Wage Foundation, at sam.hepher@livingwage.org.uk.