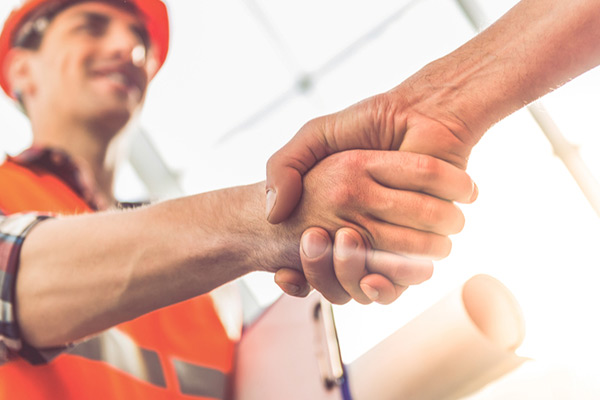 03 Feb
New Employees Induction Process – What Makes The Perfect Induction?
For many companies across a variety of industries, the traditional employee induction process can be expensive, time consuming and inconsistent for new employees. Changing the way you induct new starters could revolutionise your health and safety strategies and help your new employees to become a solid part of the team quickly.
Some of the common challenges that companies face when it comes to the induction process include:
Managing multiple sites at any given time
Managing large volumes of staff members and inductees
Key staff delivering the inductions, taking them away from other tasks
Costs involved
Consistency and quality of delivery
Recognising whether new members of staff have understood the induction process and that they are now able to perform tasks safely.
With this in mind, we wanted to take a look at how exactly you can ensure that new employees and contractors are getting the perfect induction…

1) Remember That Every Employee is Different
Review each person as an individual to identify key training needs and ensure that the employee induction process is tailored to them, their expertise and their job role. With Keyzo's Online Induction System, you can upload all your current training materials and tasks, then assign them to new employee's that need them. You can categorise the induction materials into modules then assigning different modules to different jobs, for example health and safety policies. Once the modules have been read and understood the individuals can book onto fit for work assessments or further training courses in house.
Each new employee has their own personal profile with all of their details, skills and induction modules in, giving them a completely bespoke induction process which is consistent across the board. All of this information can be searched on to find all the people with a particular skill for example.
2) Prioritise Induction Material
If you have a lot of health and safety documents for new employees to go through, they may feel overwhelmed and important information may not sink in. Give them the basics first, then add further specialist learning material as you go. Using an online system is great for this, as it is broken into modules that new starters can work through at their leisure. Having different sections to work on breaks the induction process up, meaning each category will be delivered separately, in priority order and given in understandable chunks.
After each module, a quiz or questionnaire can be added to monitor how much of the information your new starter has remembered, learnt and understood. These questions can be chosen by you and you can offer them so many chances to pass before moving on to the next module.
3) Help Them Settle In
Statistics show that 69% of employees are more likely to stay with a company for three years or more if they experience a great onboarding process. It may sound like an obvious point, but if your new inductees don't feel accepted and part of the team from their first day, you could be looking at a much higher staff turnaround. This is expensive, time consuming and annoying if you've found the perfect candidate for the role.
It's important to provide background information about your company including all the services and products you offer, even if the specific job role won't be working on that side of the business. Employees like to know who they are working for and what is happening across the board.
Customising the online induction system with your own branding, logo and colours is also a great way to help new employees feel connected. Appointing a mentor can be costly to your business, however setting milestones and concrete goals for new hires to attain can be a great way to keep them on track and a way to ensure they're settling in ok.
4) Involve Real Work Within Your Inductions
The cloud-based, online technology means that your new starters can complete all induction material before they even enter the building or step foot on site. This is great as it means as soon as they do arrive, you can set them working on tasks alongside their team members and engaging in hands on training, knowing that they are aware of all of your health and safety practices and policies.
Allowing your workers to be hands on from the beginning is a great way to get them involved, show them what the day-to-day role will entail and helps them feel more at home. There's nothing worse than having an enthusiastic new team member arriving ready to work before telling them they have to sit in a room for the first few days to trawl through mountains of paperwork and read every health & safety policy in one go.
5) Offer Further Training from Day One
Progression is the key attribute that workers look for when job searching. If you can offer to help inductees expand on their current skills and learn new expertise, they are more likely to stay at your company for a longer period of time.
With our induct&train software, you can sync your calendar to book them onto relevant training courses straight away. These could be mandatory sessions, such as fit for work assessments, or training courses to help them gain new qualifications. Nobody wants to be in a job role where they will not be progressing constantly and showing new starters how much they will learn is a great way to show them that you are a company who cares and is willing to help.
induct&train is a great investment if you have a high staff turnaround, have multiple sites, have a large admin team or are struggling to keep on top of your staff and contractors. Health & safety is an incredibly important factor across a number of industries, however worryingly many staff members feel that it is still not a priority within their company.
For more information on our software solutions, contact us on info@keyzo.co.uk or give us a call today; 01472 269243.