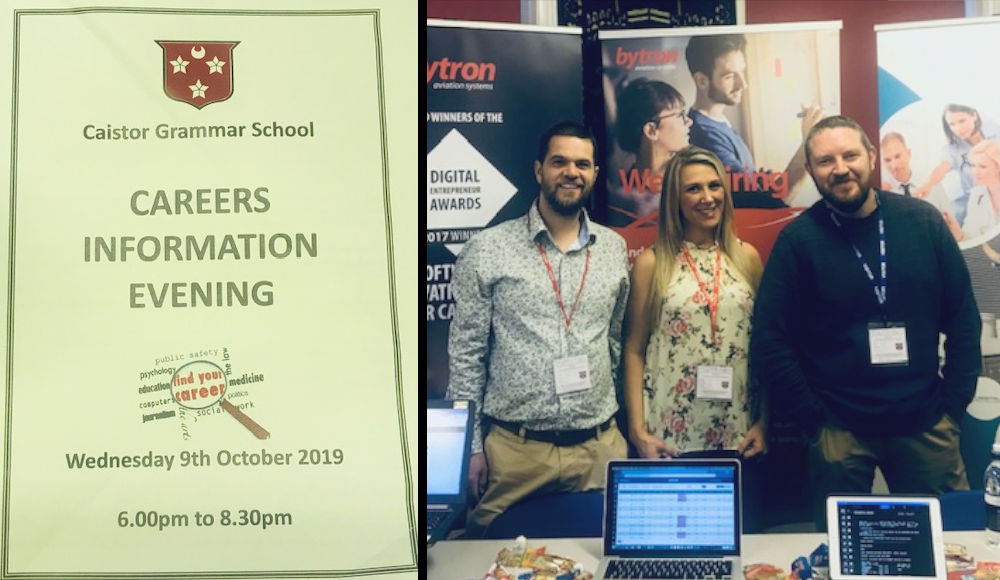 10 Oct
When we went to Caistor Grammar School jobs fair
There is currently a chasm when it comes to supply and demand of technical talent.
There are more jobs available than there are developers to fill them, which is why it's so important to attend these events and encourage the next generation of developers to continue to follow their passion and progress to a career where they can pioneer the tech of tomorrow.
It's also important for future developers to realise that there are tech roles available locally and regionally, so if they do choose to pursue a career in development there are great job opportunities for them nearby and afar. Nurturing future talent is vital in the technology industry so when we were invited to take part in the Caistor Grammar School jobs fair, we jumped at the chance to promote a career in the IT tech industry.
Therisa Thompson (HR Manager), Ross Horton (Senior Software Developer) and James Cartwright (Key Account and Marketing Manager) packed up the event banners and headed for the Lincolnshire School to meet future developers, talking to them about the tech industry and offering advice on how to further their interest and turn a budding passion into an exciting career.
The recruitment fair was a busy one for the team and they were pleasantly surprised with the impressive number of young, hopeful developers that actively wanted to talk about the tech industry and pathways in. They were asking the right questions and showing dedication to a career path that can be highly rewarding and successful.
One of the key things we notice when speaking to future developers is what they are actively getting involved in and what they are working on in their own time. The students at Caistor Grammar School didn't disappoint, with many of them conducting development exercises outside of their school hours.
After the event, Ross Horton said: "It was a busy evening with a constant stream of interested students and their parents and we were all blown away by the level of enthusiasm and talent shown by those we spoke to."
We're already looking forward to the next time we can make an impression on future tech industry workers.
Our team are on hand if you have any questions about our software. Get in touch on +44 (0)1472 269243 or drop us an email at info@keyzo.co.uk
If you're interested in a career with Keyzo, please see our Careers page: https://www.keyzo.co.uk/join-us/