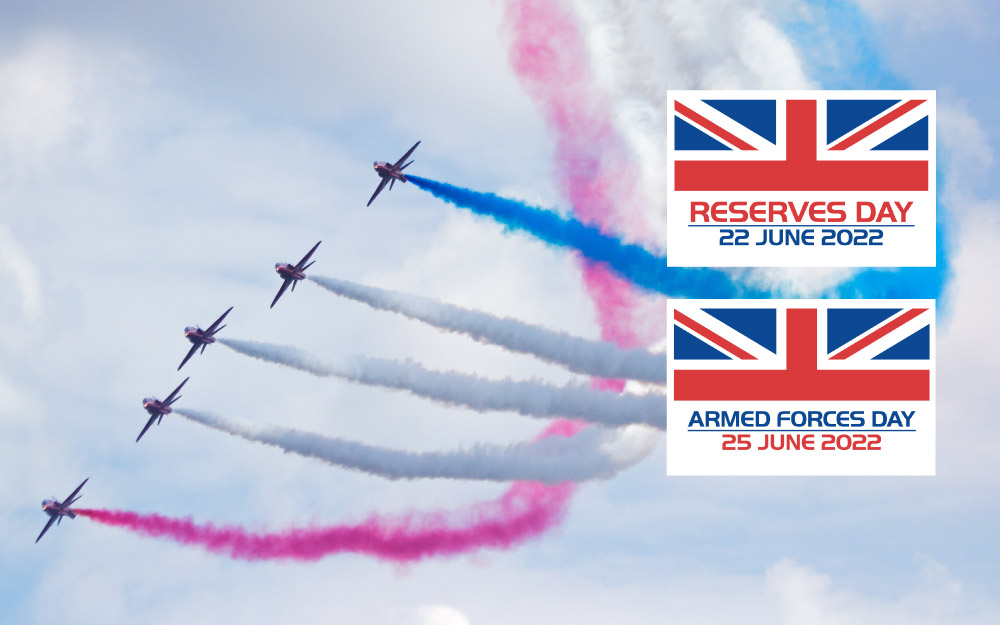 17 Jun
Showing support for our Armed Forces
The UK Armed Forces defend our country and its interests. Our service men and women are busy working around the world, promoting peace, delivering aid, providing security, and fighting terrorism. Showing support for the Armed Forces provides a much-valued morale boost for the troops and their families.
Armed Forces Day & Reserves Day
Reserves Day takes place on June 22nd and Armed Forces Day takes place on June 25th and is a chance for us all to show support for the men and women who make up the Armed Forces community: from currently serving troops to Service families, veterans and cadets.
There are lots of ways for people, communities and organisations across the country to show their support and get involved in Armed Forces Day. There are so many physical and virtual events that people can get involved with too!
As a rapidly growing company and one that truly values our staff, we're extremely proud to have made our pledge to the Armed Forces Covenant and to champion the work that Reserves Day and Armed Forces Day recognises.
Armed Forces Covenant Award
At Keyzo and Bytron Aviation Systems we have developed a real sense of community through our core values and over recent years, we've welcomed some fantastic ex-service people to our teams right across the business. Each of them adds real value with their knowledge, experience and vast array of transferable skills so making the pledge was easy and shouting about it is essential!
We're committed to honouring the Armed Forces Covenant by supporting the Armed Forces Community and recognise the value Serving Personnel, both Regular and Reservists, Veterans and military families contribute not only to our business but to our country. Following our signing of the Pledge, we were awarded the Bronze Employer Award and we're looking to achieve the Silver Award very soon.
"It's fantastic that we employ ex-service men and women, they each bring a different set of skills to our teams and fit perfectly in with our values. Our business is undoubtably benefiting from their individual experience across our company. Signing the pledge was a great experience and as we continue to grow we'd certainly welcome more applications for our vacancies from the Armed Forces Community"
Therisa Thompson, Chief Services Officer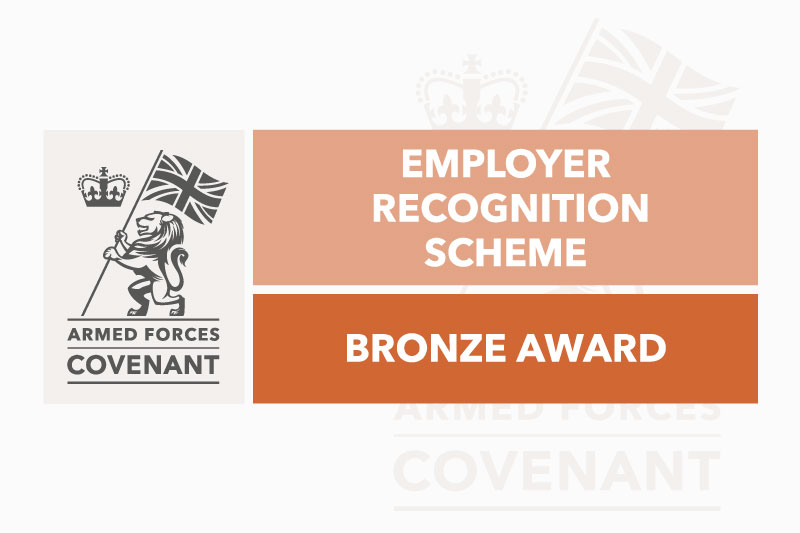 Armed Forces Charity Events
Tim Skinner is one of our ex-service personnel now in the role of managing our Planning Team and last year his wife was offered an overseas posting with the RAF in Cyprus. Tim is a highly regarded member of the Production Team and wider company so supporting him and his family on this exciting chapter of their lives was a very easy decision for us.
Earlier this year Tim helped organise a charity event to walk the equivalent distance between RAF Brize Norton to RAF Akrotiri which was around 2020 miles! 17 staff took part in the challenge and collectively they raised £776 for SSAFA who provide lifelong support to our Armed Forces and their families.
Tim said "We chose that challenge as it's the journey I took in August when I moved to RAF Akrotiri with my wife and two children. My wife is a full-time serving member of the RAF being posted to RAF Akrotiri and the support from the company to make it possible was amazing. 2020 miles is the average flight planned distance between RAF Brize Norton in the UK and RAF Akrotiri in Cyprus."
ARE YOU AN EX-SERVICE PERSONNEL LOOKING FOR A CAREER?
As an armed forces employer, we welcome applications to join our Keyzo and Bytron, check out our latest vacancies.