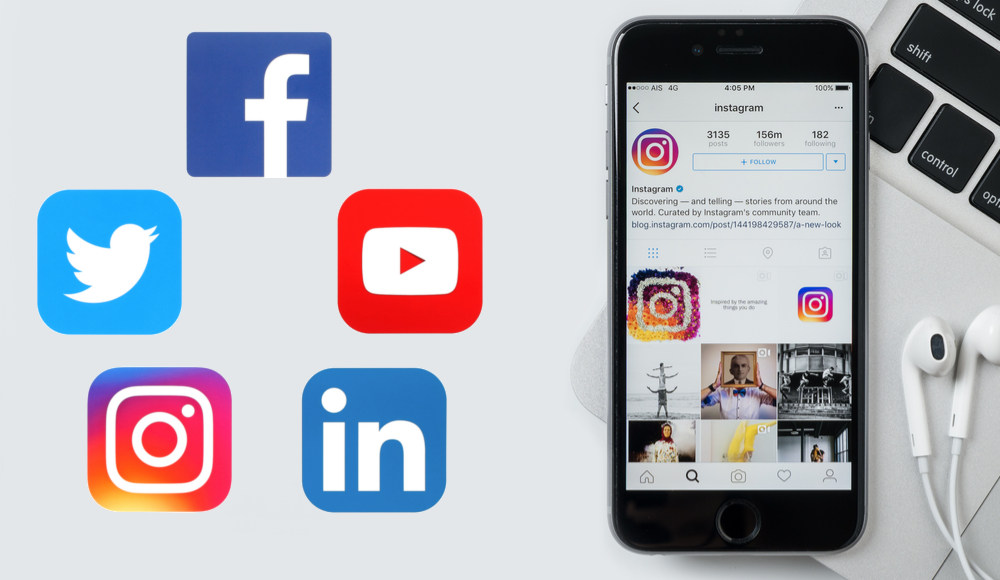 30 Nov

Social Media Image Sizes – What You Need To Know

There are more social media channels than ever, though it's the most popular ones that are firmly proven when it comes to using them as a successful digital marketing tool. Each social platform has its own set of benefits in giving your business a voice, just as each one has its own set of image sizes which you will need to know in order to make the most of the imagery you decide to use on your chosen social channels…

Sizing images correctly for social media can be surprisingly difficult sometimes. Dimensions often vary depending on how and where an image is intended to be shared and getting these wrong can lead to your image automatically being cropped or squashed, adding time onto your social media campaigns.

In this blog post we have pulled together the image size requirements for some of the major social media channels; the idea being that you can bookmark this page in your browser so you can easily refer back to it as a resource when creating posts or updating your cover images. For better image quality you can go above these sizes highlighted below, providing you keep the same ratio. Most social media channels will automatically scale your images down to fit the space available.

As a rule of thumb, when using logos or text on your imagery it would be better to save them as PNG files. On a similar note, most images will be scaled down to a smaller size for mobile devices and tablets, but sometimes this may not be the case. Be sure to check your images on mobile devices to ensure your image doesn't get cropped, particularly where text content or logos are involved.

Strategic social media campaigns are an effective way to boost social engagement and drive traffic to your website. Make sure your imagery doesn't let you down…
Facebook
Facebook has more than a billion daily active users on average and is the most active out of all social media channels.
Facebook accounts for one in every six minutes spent online and one in every five minutes spent on mobile devices. The way in which businesses use Facebook will continue to evolve and this social platform is probably going to be a social media mainstay for a long time. Investing in Facebook should be a top priority for any business that wants to develop and maintain a social presence.
Please click on the image below to expand…

Twitter
Twitter focuses on succinct, impactful and frequent messages. It has more of a 'live' concept than Facebook and relies on posting more regularly but can generate quick wins as a result.
90% of Twitter users access the network at least once per week and 57% use it every day. Over 500 million tweets are sent every day and the community is incredibly active, making Twitter a good place for your business to have a presence, providing you allow your Twitter resource to keep their finger on the pulse and react to trends efficiently.
Please click on the image below to expand…

Instagram
Instagram is one of the most successful photo-sharing apps in the world and with over 800 million active monthly users, can be of real benefit to your business or digital campaign.
50% of Instagram users follow brands, which is a higher rate than any other social media so assuming you can provide the imagery, Instagram is an excellent vehicle to gain user engagement. By including another handle in your posts you can gain 56% more engagement on average and by including at least one hashtag you can gain 12.6% more engagement on average. Add a location for roughly 79% more engagement.
Please click on the image below to expand…

LinkedIn
LinkedIn is business orientated and generally suited for professionals. A good platform to introduce shareable content to benefit your audience, especially if your business has a B2B focus.
An approximate 94% of B2B marketers use LinkedIn to distribute their content making it the most popular social channel for professionals. The majority of businesses now have a LinkedIn page which allows them to attract new followers and build a community to help drive engagement.
Please click on the image below to expand…
YouTube
The popularity of video content has grown drastically over the past few years and this trend is set to continue.
YouTube is the go to platform for video content with almost 5 billion videos watched every day and with the sharing functionality it provides between other social media channels, every business should think about creating their own YouTube channel if they're willing to take video content seriously. YouTube boasts over 30 million visitors per day, though bear in mind that roughly 20% of video viewers will leave after the first 10 seconds if your introduction isn't engaging enough.
Please click on the image below to expand…
Social media allows your company and your customers to have a voice, though successfully running these platforms requires a lot of invested time and resource to generate a strong social following who regularly interact with your brand online.
If you don't have the resource to effectively manage your own social media accounts Keyzo can implement and manage any social media channel for you and identify which ones are best suited to your business requirements.
Alternatively, if you have a campaign in mind and wish to explore how it can benefit from social media then please get in touch using the form below so we can explore these avenues with you. As social specialists, our expert team have completed lots of successful campaigns and strategically managed a lot of accounts for a range of clients.