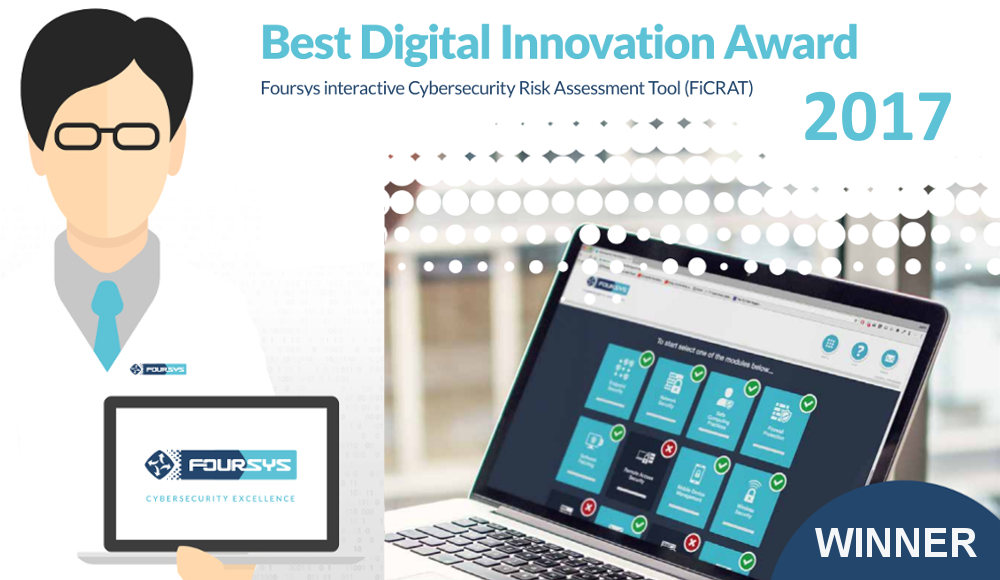 03 Jul

Foursys Win Award for Best Digital Innovation

Our client, Foursys, have won an award for Best Digital Innovation Award for their risk assessment tool, FiCRAT.

The CRN Sales & Marketing Awards are set up to recognise and reward achievements for individuals and teams who have been thriving within the UK IT industry over the last year.

The sales and marketing teams are at the heart of the success of a business, and these awards are built to recognise their efforts, focusing on innovation, evolution and development.

The black-tie awards ceremony took place at The Brewery, London, on 29th June, and was a night to remember with champagne flowing, an awards presentation and an after show party.

Judges included Social Media Editor & Chief Reporter at CRN Hannah Breeze, Peter Grundy, Managing Director at The Partnership, former CRN Editor Sara Driscoll and Graham Wylie, the Managing Director of The Marketing Bridge.

Up against some strong competition, Foursys walked away with the Digital Marketing Innovation Award for their Interactive Cybersecurity Risk Assessment Tool (FiCRAT).
Foursys Aims
For 2016, Foursys goal was to create a highly innovative, content-rich online IT security tool aimed at IT administrators. Specifically, the aim was to provide the target audience with a useful asset, create a tool with a long lifespan, streamline their sales qualifying process and improve sales ROI in the next year and ensure the entire process was free of vendor, product or service marketing to provide a truly independent advice.
Foursy's marketing director pulled together an internal team, contacted marketing agency Tick Tock Social and called on the services of our team here at Keyzo. Together, we created a revenue generating, high value free tool the smashed every goal Foursys had.
Introducting FiCRAT
FiCRAT is a unique online web portal that allows administrators to correctly and independently assess and benchmark their network's exposure to digital threats.
It officially launched in October 2016 and through social engagements and word of mouth and has already had 10,000 questions answered by hundreds of customers and prospects. It is made from 12 security modules that users can select and complete. Every time a module is completed, Foursys then calculates and grades the organisations exposure to threats and provides high level recommendations, before generating a stakeholder ready report. The report provides feedback for every question and grades the overall risk from A-D.
The report, which is completely free, can then:
• Uncover security weaknesses that leave your organisation exposed to IT threats
• Recommends improvements for the company's security posture
• Keeps company stakeholders informed on the true state of IT security.
It was a big marketing investment, but the results have been incredible. It has positioned Foursys at the forefront of trusted IT security advisors and provides real solutions – and is now award-winning!
To learn more about the Foursys project, read our case study here.
Congratulations Foursys! We've loved working on this project with you.
Please get in touch with us below if you would like to discuss any projects you have in mind…